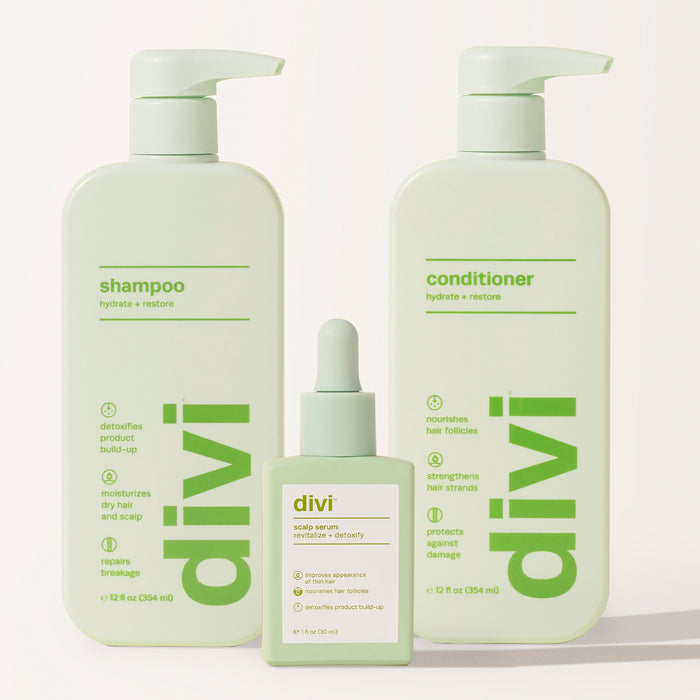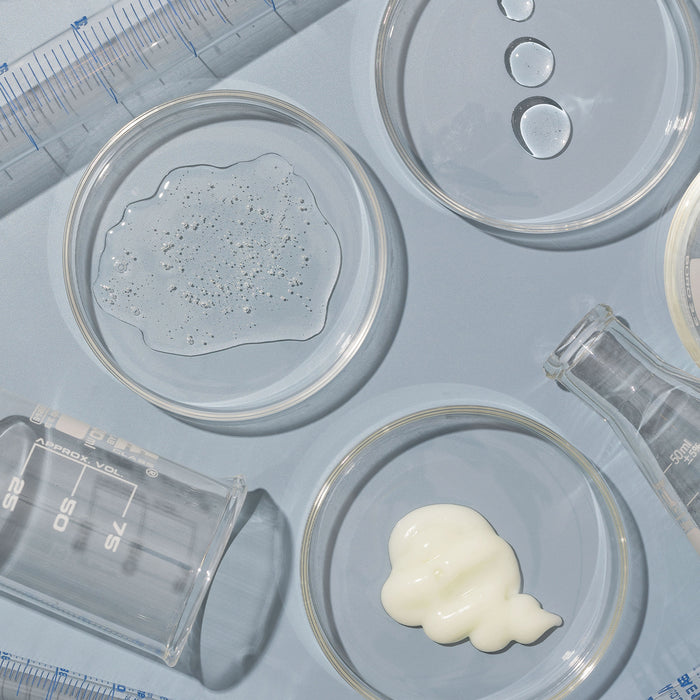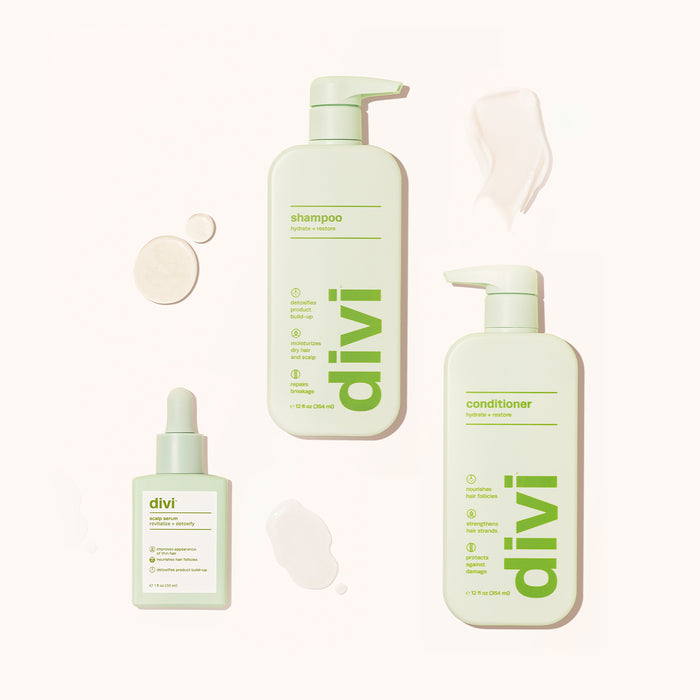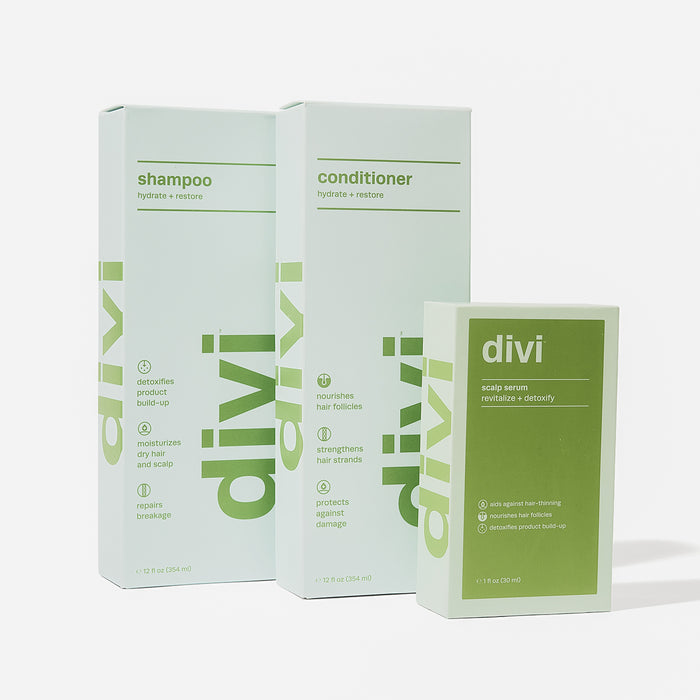 The Results Are In
In an 8-week consumer study of 36 men and women using Divi's Scalp Serum, the following results were reported.
Said their scalps felt refreshed and nourished after use
Said the serum soothes, cools and calms their roots
Said their scalp feels clean after use
Divi's Starter Bundle features the scalp health products you need to create a healthy hair routine. Featuring our Shampoo, Conditioner and 30ml Scalp Serum, this healthy scalp kit helps remove buildup, nourish your scalp, moisturize, soften and detangle your hair.
All of Divi's essentials for healthy hair work seamlessly together in your daily hair care routine to make scalp health simple. Divi's Shampoo cleanses and soothes, our Conditioner hydrates and protects and our bestselling Scalp Serum helps keep your scalp environment healthy. Together in the Starter Bundle, this all-in-one trio works to promote your happiest, healthiest hair.
Scalp Serum:
Improves the appearance of thinning hair
Nourishes the scalp
Helps reduce product & oil buildup
Shampoo:
Helps remove product and oil buildup
Nourishes the scalp and hair
Helps reduce the appearance of breakage
Conditioner:
Moisturizes the hair
Helps strengthen hair strands
Helps detangle hair and improve manageability
*with globally sourced ingredients
Cleanse the scalp and hair with Divi's Shampoo.
Hydrate and protect the hair with Divi's Conditioner.
Nourish the scalp with Divi's Scalp Serum.
Amino Acids
Tea Tree Oil
Menthol
Anyone Experiencing:

A dry scalp
Product and oil buildup
Dull and/or fragile hair
Dry, frizzy & unmanageable hair
Hair thinning or shedding
Color-treated or chemically processed hair

Those looking to improve their overall scalp and hair health
Anyone who wears tight hairstyles
The Results Are In
In an 8-week consumer study of 36 men and women using Divi's Scalp Serum, the following results were reported.
Said their scalps felt refreshed and nourished after use
Said the serum soothes, cools and calms their roots
Said their scalp feels clean after use
Benefits
Improves the Appearance of Thinning Hair
Formulated with ingredients that create a healthy and clean scalp environment for your hair's natural growth cycle, Divi's Scalp Serum can help improve the appearance of hair thinning. Ingredients like Caffeine, Peppermint Oil and Menthol support thicker and healthier looking hair, while Rosemary Leaf Extract and peptides like Copper Tripeptide-1 and Acetyl Tripeptide-3 are known to make your hair appear stronger.
Helps Remove Product & Oil Buildup
Divi's Shampoo and Scalp Serum help to remove oil and product buildup through their specially crafted formulas, featuring key components such as Tea Tree Oil. This ingredient is known to play a crucial role in effectively cleansing buildup from both the scalp and hair roots, consequently aiding in the mitigation of excessive oil production. By supporting a well-balanced and rejuvenated scalp, Divi's Shampoo and Scalp Serum not only revitalize your hair but also contribute to its overall health and vibrancy.
Nourishes the Scalp and Hair
Divi's Hydrating Shampoo is formulated with a science-backed blend of ingredients to help nourish the scalp. Betaine supports the scalp's hydrating barrier while also reducing surface damage of the hair fiber. Jojoba Seed Oil, mirroring the structure of natural sebum, effectively moisturizes both the scalp and hair. Additionally, applying Menthol to the scalp provides a stimulating sensation and fosters nutrient delivery to the hair roots.
Helps Reduce the Appearance of Breakage
Hair breakage can lead to flyaways and frizz that make hair feel unmanageable. Fortunately, Divi's Shampoo contains Amino Acids, akin to the hair cell membrane complex, that support hair strength, fight frizz and reduce the effects of breakage. Additionally, Betaine, renowned for its strong bond with keratin, a fundamental hair protein, further supports hair resilience and manageability, promoting an overall perception of stronger, healthier hair.
Moisturizes the Hair
When hair is moisturized, it can feel softer, lighter and more manageable. That's why we formulated Divi's Hydrating Conditioner with key ingredients to keep your hair feeling hydrated and healthy. Betaine supports deep conditioning, moisturizing each strand for a smooth and healthy appearance. Jojoba Seed Oil and Coconut Oil work in synergy to help hydrate the scalp and provide shine. Meanwhile, Coconut Oil reduces water absorption and safeguards hair fibers, supporting prolonged hydration and resilience against environmental factors.
Strengthen Hair Strands
Strong hair is better able to withstand environmental factors, styling and tension. Fortunately, Divi's Hydrating Conditioner supports hair strength with its unique blend of ingredients. Among these, Amino Acids take the spotlight. Our Conditioner's blend of Amino Acids is similar to ones found in the hair cell membrane complex, which is the vital layer bridging the cortex and cuticle. These Amino Acids contribute to hair strength and can combat frizz and address the effects of breakage. Complementing this ingredient, Betaine has a high affinity for keratin (the protein in hair fiber), so the ingredient helps coat the hair to support hair strength, help reduce split ends and address existing surface damage to the hair.
Helps Detangle Hair and Improve Manageability
One of the main reasons people use conditioners is to help detangle their hair and make it more manageable for combing and styling. To support detangling, Divi's Hydrating Conditioner is infused with a blend of plant-based oils, including Babassu Oil, Soybean Oil, Coconut Oil and Flaxseed Oil. This blend of oils helps to unravel knots while elevating the smoothness and overall manageability of your hair.
Meet the Ingredients
Our formulas are crafted by our in-house team of scientists through an extensive research process.
A small protein composed of the three amino acids (protein building blocks) which is known to facilitate a clean and hydrated scalp barrier.
Supports thicker and healthier looking hair.
Known to reduce and prevent excess oil buildup on the scalp and in the hair follicle.
Support hair strength, fight frizz and reduce the effects of breakage for overall hair health.
Nourishes and hydrates the scalp for a clean environment for healthy hair.
How to Use
Shampoo: Apply Shampoo to wet hair. Gently massage into hair and scalp to lather and cleanse. Rinse and repeat (if desired).
Conditioner: Apply Conditioner to wet hair, focusing on the ends. Let the product sit for at least three minutes then rinse. Comb, dry and style hair as normal.
Scalp Serum: Apply daily to wet or dry hair, morning or night. Shake the bottle and apply serum to the scalp, focusing on problem areas. Massage into the scalp and let it soak in. Do not rinse out!
Complete Your Healthy Scalp Routine
Free Shipping

Free Shipping
Free Shipping

Frequently Asked Questions
We recommend using Divi's Scalp Serum daily for 3 continuous months to see best results. That said, you may experience benefits after just a few uses including a happy scalp, more hydration and less product buildup.
Yes! Our Scalp Serum is designed to fit into your normal hair maintenance and styling routine.
Still have questions? View our FAQs or Contact us.
Our products focus on scalp health. This means we're creating a nourished and resilient scalp. Some users have found that this healthy environment can help their hair appear thicker and more voluminous, but results vary.
Our Shampoo & Conditioner are free from synthetic fragrance. The delicious smell is from peppermint and tea tree oil.
The amount you use depends on your hair length and thickness, so we recommend playing around until you find the perfect amount. Most users say that a dime-to-quarter-sized dollop works best.
Our products are designed to be vegan, clean and very gentle—making them suitable for all skin and hair types. That being said, everyone is different, and some people are more sensitive to different ingredients. If you are concerned about how your body will react, we recommend doing a spot test on your inner arm to check for sensitivity.
As Seen In
The Starter Bundle
One-time Purchase