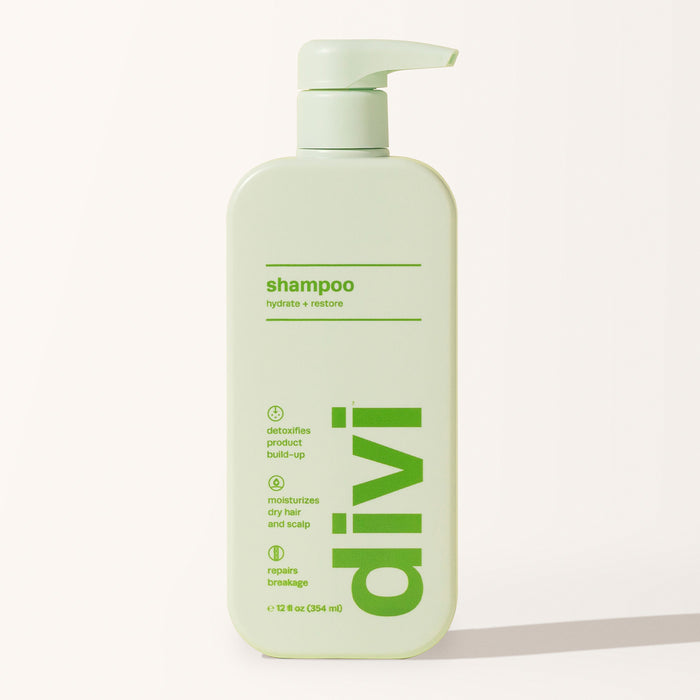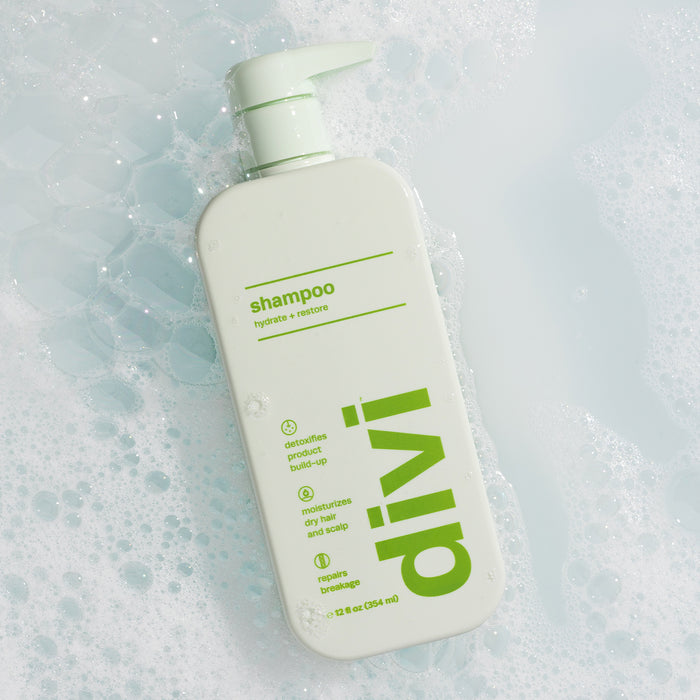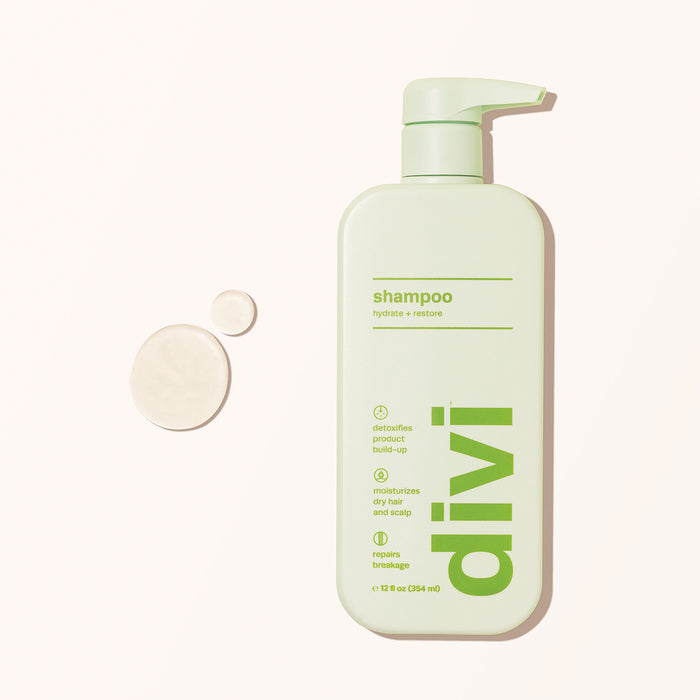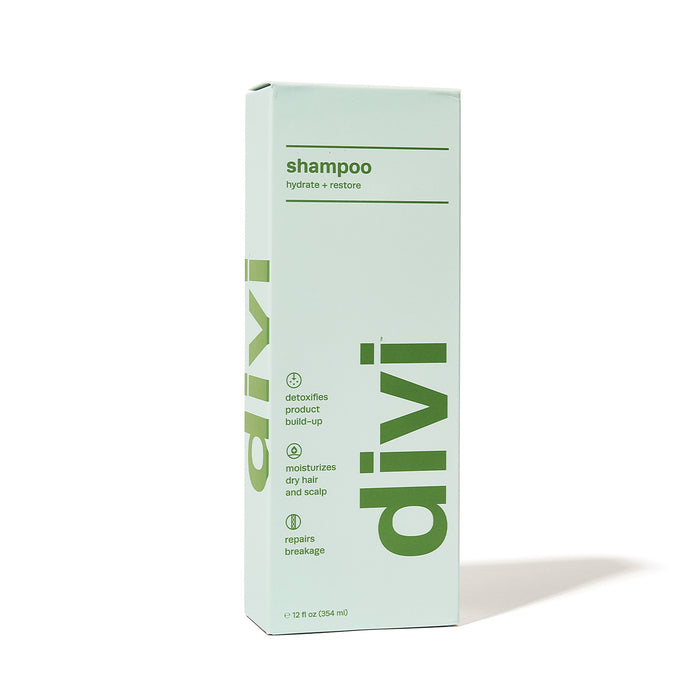 Divi's Shampoo gently cleanses the hair, helps remove scalp buildup, hydrates, nourishes and soothes. Formulated with a unique blend of amino acids that support strengthening hair, fighting frizz and smoothing the effects of breakage, alongside ingredients like tea tree oil, betaine and menthol, this shampoo is designed to leave your hair and scalp feeling clean, moisturized and refreshed.
Helps remove product and oil buildup
Nourishes the scalp and hair
Helps reduce the appearance of breakage
*with globally sourced ingredients
Apply Shampoo to wet hair. Gently massage into hair and scalp to lather and cleanse. Rinse and repeat (if desired). Follow up with Divi's Conditioner for best results.
Amino Acids
Menthol
Betaine
Tea Tree Oil
Anyone Experiencing:
Oily scalps
Product buildup
Dull and/or fragile hair
Benefits
Helps Remove Product Buildup
The primary goal of washing your hair is to achieve a refreshing feeling, accompanied by the cleanliness of your hair and the removal of oil and product buildup. Divi's Shampoo supports this goal through its specially crafted blend, featuring key components such as Tea Tree Oil. This ingredient plays a crucial role in effectively cleansing buildup from both the scalp and hair roots, consequently aiding in the mitigation of excessive oil production. By supporting a well-balanced and rejuvenated scalp, Divi's Shampoo not only revitalizes your hair but also contributes to its overall health and vibrancy.
Nourishes the Scalp and Hair
Divi's Hydrating Shampoo is formulated with a science-backed blend of ingredients to help nourish the scalp. Betaine supports the scalp's hydrating barrier while also reducing surface damage of the hair fiber. Jojoba Seed Oil, mirroring the structure of natural sebum, effectively moisturizes both the scalp and hair. Additionally, applying Menthol to the scalp provides a stimulating sensation and fosters nutrient delivery to the hair roots.
Helps Reduce the Appearance of Breakage
Hair breakage can lead to flyaways and frizz that make hair feel unmanageable. Fortunately, Divi's Shampoo contains Amino Acids, akin to the hair cell membrane complex, that support hair strength, fight frizz and reduce the effects of breakage. Additionally, Betaine, renowned for its strong bond with keratin, a fundamental hair protein, further supports hair resilience and manageability, promoting an overall perception of stronger, healthier hair.
Meet the Ingredients
Our formulas are crafted by our in-house team of scientists through an extensive research process.
Support hair strength, fight frizz and reduce the effects of breakage for overall hair health.
Provides a stimulating sensation and is known to help deliver nutrients to the hair's roots.
Derived from sugar beets, this ingredient supports moisture retention and hair strength, as well as providing cleansing benefits to the scalp and hair.
Supports the reduction of buildup on the scalp and in the hair follicle to help prevent the over-production of excess oils on the scalp.
How to Use
Start with a quarter-sized amount of our hydrating shampoo and apply to wet hair.
Gently massage into the scalp for a rich lather and cleanse.
Rinse and repeat (if desired). Follow with Divi's Conditioner for best results.
Complete Your Healthy Scalp Routine
Free Shipping

Free Shipping

Frequently Asked Questions
Our products focus on scalp health. This means we're creating a nourished and resilient scalp. Some users have found that this healthy environment can help their hair appear thicker and more voluminous, but results vary.
While we recommend using Divi's products together as a part of a healthy scalp routine, it is not required to achieve results. That said, each of our products works a little differently to promote happy, healthy hair. Our Scalp Serum is designed to nourish the scalp, our Shampoo cleanses and removes buildup and our Conditioner softens and hydrates the hair. Together, this trio creates a healthy scalp environment and promotes happy, easy-to-style hair.
Our Shampoo & Conditioner are free from synthetic fragrance. The delicious smell is from our peppermint and tea tree oil.
The amount you use depends on your hair length and thickness, so we recommend playing around until you find the perfect amount. Most users say that a dime-to-quarter-sized dollop works best.
Our products are designed to be vegan, clean and very gentle—making them suitable for all skin and hair types. That being said, everyone is different, and some people are more sensitive to different ingredients. If you are concerned about how your body will react, we recommend doing a spot test on your inner arm to check for sensitivity.
As Seen In
Shampoo
One-time Purchase